Field Service Dashboard & Reports
The software provides an intuitive Dashboard and Reports Module to improve day-to-day operations for the Managers handling the Field Executives. The all-encompassing dashboard on the application offers real-time updates and easy access to major features. Field staff managers can access major leads, tickets and work related details online, besides relevant reports, thereby giving them all the resources and knowledge to stay update, study operational trends and implement any decisions needed for efficient operation of the system.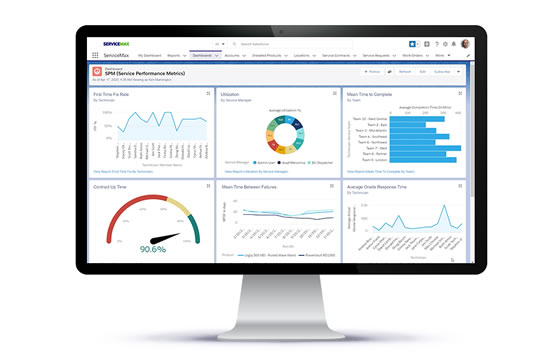 Dashboard & Reports Module Features
Intellectual Data Insights Report
Get control over Field Operational Performance
Reports offered for Field Executive Managers helps them to access information and details related to assessment of performance of the field staff and high priority schedule updates to have a clear forecast on monthly sales. Any other parameter that might help to improve operational performance can be found in the different types of field service reports or sales reports, that the managers can access or even create.
Field Force Attendance Reports
Access information and other parameters like distance travelled, staff movement, Shift In/Shift Out updates with time stamp, etc. to enable better control over field staff. The attendance report can help to track an individual's performance along with other parameters in consideration.
Custom & Comprehensive Reports
The module allows to customise reports with the parameters and analysis in the preferred format. This helps managers to get control over an executive's performance metrics and guide them further on. Comprehensive reports facilitate the analysis of critical parameters like service or sales efficiency, performance and other crucial parameters to assess the field executive across the product line or services.
Benefits to Manager
Easy & quickly assign/re-assign new jobs to your field service/service executives
Quickly analyse all data obtained in the form of various reports and download them.
Anywhere and anytime access the reports with scheduling option.
Benefits to Field Staff
All the information available anytime, anywhere, on-the-go about your customers
Instantly update attendance, leave, etc. to analyse and for reporting, all in one place
Improve self-improvement plans with graphical Target Vs Achievement reports.
Customized Feature
3rd Party API integration